This coming Sunday, May 6th, marks the 67th anniversary of the liberation of the Czech town of Plzeň by the United States Army. As you can see here, Plzeň hasn't forgotten. Nor should we.
Every 5 years, Pilsen conducts the Liberation Celebration of the City of Pilsen in the Czech Republic . May 6th, 2010, marked the 65th anniversary of the liberation of Pilsen by General George Patton's 3rd Army. Pilsen is the town that every American should visit. Because they love America and the American Soldier…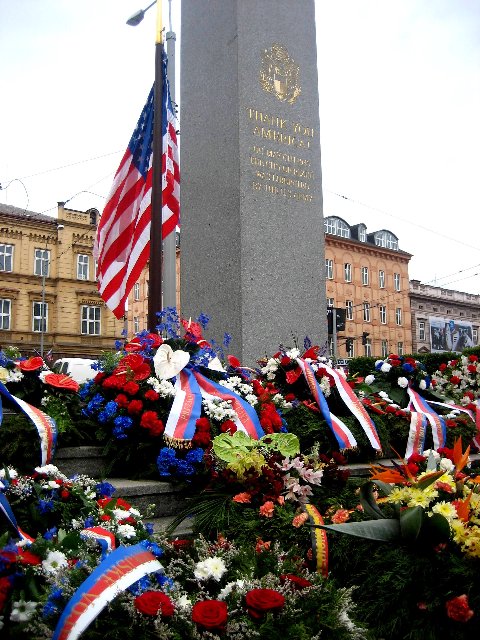 Between Czech roots (my mother's parents), memories of a 1985 visit to Plzeň, and gratitude for our veterans, the story especially touches me. It made the email rounds about a year and a half ago, so many of you are likely to have seen it already, but for any who haven't yet, I feel inclined to pass the link along. (If that copy ever goes away, the story can also be found here, here, and here.)
Don't miss the included story of Zdenka Sladkova, 79, who for 67 years has tended a memorial at the crash site of a KIA 20-year-old pilot Lt. Virgil P. Kirkham. She was only 14 years old when his P-47 crashed near her home town of Trhanova.
The prevailing conventional wisdom is that we're short on friends in this world. Don't believe it. At least not when it comes to the kinds of friends who matter most. My heartfelt thanks to our enduring friends in Plzeň and the Czech Republic.