Will Hollywood change the political overtones of its creative products, in response to the 2010 Midterm Election results? Another very interesting and relevant Poliwood conversation with Roger L. Simon and Lionel Chetwynd on PJTV (9 min. video):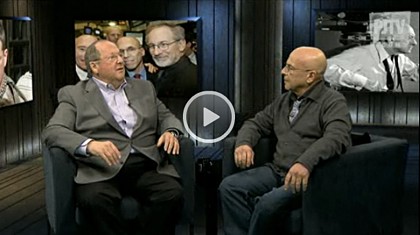 My prediction: Not a chance; the bulk of Hollywood's creative and producer class seems too deeply entrenched and calcified to temper its sneering condescension toward Middle America (a.k.a. "Flyover Country"). Which should make the future very interesting, as alternative production companies like Declaration Entertainment potentially seize the opportunity to serve pent-up popular demand for America-positive content that formerly mainstream Hollywood seems content to leave unrequited.
Then again… Every time I feel I'm about to completely give up on Hollywood's relationship with America, I seem to be greeted with one last glimmer of hope. Re-watching the spectacularly well done Iron Man followed by Iron Man 2 recently, I was delighted all over again by Robert Downey Jr.'s pitch-perfect portrayal of an unapologetic American inventor-entrepreneur-capitalist-hero-patriot. You see something beautiful, inspiring, and celebratory like that and can't help but wonder, "Why not more like this?" But there it is nonetheless, even if it stands comparatively alone among recent movies, reminding us that there are still at least a few people in Hollywood who really get it about who we are and why many of us are so rightly proud of it.
Perhaps, as Simon and Chetwynd seem to conclude, the book isn't closed on Hollywood just yet. It will be interesting indeed to see what comes out of Hollywood over the next few years, as ideas entering the production pipeline now start to reach audiences.
To Be Continued … ?
UPDATE 2010-11-25 (Happy Thanksgiving!): An interesting related article on the Washington Times website: "Hollywood Ending not in script for 'Elites'"