Fifteen years after the scum of the Earth brought their degraded malevolence to American soil, my perspective from last year's post essentially holds the same. I am far less concerned about the brutal barbarians at the gates than I am about those within the gates who've labored to render us weak and defenseless, and continue to do so without end in sight. The wake-up call I thought such an attack would be turned out to be too inconvenient for some among us, whose ambition to chisel away at and dismantle this culture of ours was too dear to be put aside. Come what may, The Narrative must go on! Islamic Jihadist violence and Progressive Multiculturalism are BFFs in a mutual suicide pact — except that only the latter truly means to go down in self-loathing flames of submission, relieved at last of the burden of its perpetual shame, while for the former the true goal is domination through however much homicide, torture, and taqiyya proves necessary.
The majority of Europe is committing cultural suicide, to be sure, and our beloved U.S.A. isn't far behind. Multiculturalism is an understandable response to the horrors that ravaged the Continent through the first half of the twentieth century, but the cowardice in judgment it's produced now seems poised to be Europe's undoing. Maybe I'm old, and maybe my French vocabulary is lacking, but I seem to remember a time before "Frenchman shouts 'Allahu Akbar' as he stabs woman to death" was a routine headline.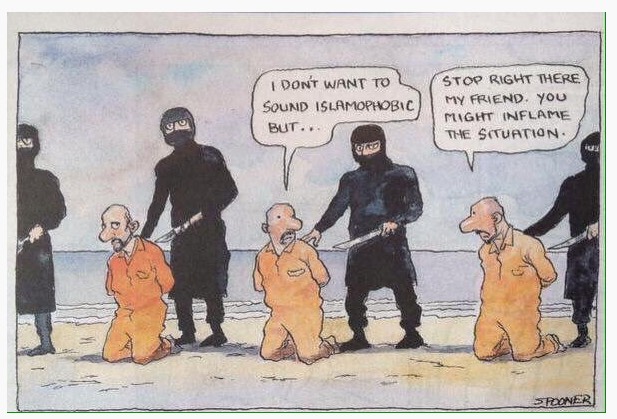 Our worry now should not be ISIS, for all its sick brutality, but whether we have the will to stand up and declare ISIS and its Jihadist fellow travelers an enemy to be utterly and unconditionally destroyed because we genuinely and deeply care about who we are and what our Civilization stands for. It is not their predictable pipeline of recruits from fanatical branches of the Islamic world that should alarm us, so much as their success at recruiting useful idiots from our own populations. What exactly does that tell us about the state we're in?
I'm done with a lot, at this point. Done expecting a miracle turnaround from a culture addicted to managed decline. Done having any confidence in our deeply compromised leadership and institutions. Done seeing things I can't bear come to pass, done with a cowardly press, and, lately, done with the news cycle entirely. Those of us who see the writing on the wall and are weary of it are essentially on our own, in a future governed by absurdities and nonsense.
Maybe, in the end, disillusioned self-reliance is a good place to be. But this is not the future that should have been.
I'm off to watch this memorial slideshow, which captured the weight and reality of that day as well as anything. For those who prefer to read: 9/11: Never Forget, Never Give In is highly recommended.
My Previous Years' 9/11 Posts
2015: 9/11, Fourteen Years On ~ Fourteen Years Later: 9/11 Links
2014: 9/11, Thirteen Years On
2013: 9/11, Twelve Years On
2012: 9/11, Eleven Years On
2011: A Plea, Ten Years After: Please, Open Your Eyes ~ Ten Years Later: 9/11 Links
2010: 9/11: Two Songs
2009: Tomorrow is 9/11 ~ My Experience of September 11, 2001 ~ 9/11 Quotes
2008: 9/11, Seven Years On ~ 9/11, Seven Years On, Part 2 ~ 102 Minutes that Changed America
2007: 9/11, Six Years On
2006: Soon, Time Again to Reflect ~ 9/11 Observances ~ 9/11 Observances, Part 2
2005: I Remember
2004: Remembering and Rebuilding (republished here September 12th, 2014)