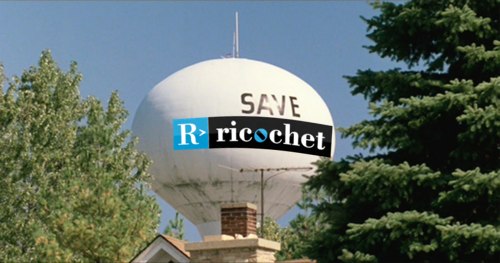 Ricochet, a deservedly popular and uniquely valuable site for civil, center-right discussion and superb podcasts, and one of my favorite online destinations, needs our help. And they're asking very little.
For people dedicated to the idea that something worth having is worth paying a little of our hard-earned money for, keeping Ricochet going should be easy. We can do this in our sleep, folks. All they need is for a mere 2% of their 400,000-500,000 unique monthly visitors to join, at the bargain price of $3.67 per month or $29.95 for a year (=$2.50/month). I've been a member since March 2011, and am already renewed through March 2014. If you've enjoyed the site and want it to stick around beyond their projected "fiscal cliff" of January 21st (also known in some circles as "Inauguration Day 2013"), please become a paid member, or give a gift membership. They've given the world some uniquely great content, and now they need more new members to step up. Pronto.
There are plenty of sites you can visit to read editorials and blog posts, and then drown in a sea of spite-filled ad hominem invective punctuated only occasionally by a sparse flotsam of sincere and insightful remarks in the comments that follow, if that's your thing. We call this phenomenon "The Internet(s)". By charging a nominal membership fee for the ability to post and comment, and thus giving participants some "skin in the game" — a small but significant stake in keeping the place civil — Ricochet has built a site and community without peer, where one's time reading and having meaningful discussions can actually be well spent. What's more, Ricochet provides the unique opportunity to engage in discussions with prominent great minds, and people of uniquely interesting perspectives and great wit — people such as Peter Robinson, Victor Davis Hanson, James Lileks, Rob Long, Claire Berlinski, Pat Sajak … the list goes on and on.
Friends, we're going to need a gathering place like Ricochet more than ever in the coming years. If we give a damn, we can easily keep it going. Or, we can just let it go under on Inauguration Day, content to dream of the other, far better uses to which we can put the 8 cents a day we'll each have saved. Our choice.
There's a founders' discussion of their fiscal sitution in the latest podcast episode.