I published the following on September 11th, 2004, on another site I had back then. That site having gone the way of homepage.mac.com, I thought I'd reunite this post with the rest of my 9/11 series.
Plenty has happened in the decade since, and I'm glad to see that we did ultimately rebuild at the World Trade Center site, even as I'm still concerned that it took us as long as it did.
---
In September 2001, I was living about 110 miles up the Hudson River from New York City. According to published flight path information, American Airlines Flight 11 passed not so very far from overhead on that morning three years ago, on its way toward New York City and its collision with the north tower of the World Trade Center. I visited Ground Zero two weeks after the terrorist attacks, at which time the fence perimeter allowed one to get within two blocks or so of the site — close enough to experience the twisted wreckage of the towers' remaining outer walls, the debris everywhere, the people working to search for human remains and clear the site, as something undeniably real. And amid the complex knot of feelings that continued to unravel in the sunken pit of my stomach — including the struggle to address the seemingly impossible question of how any human being could be capable of following through on, much less conceiving of such a vicious attack — I also felt, and still very much feel today, a strong conviction about at least one thing: Ultimately, we must rebuild.
Why care so much about putting some new buildings in Lower Manhattan? After all, the catastrophe of that day is over, its victims irreversibly claimed. Nothing we do now can bring them back to us.
I care about what we do to rebuild, because the towers symbolize something positive to me — they were monuments to human progress, to what people in a free and voluntary society are capable of achieving. And I care because I see vital symbolism in the act of rebuilding itself, of finding and enacting a design that not only mourns respectfully "They are gone", but also affirms with conviction "We are still here." That our culture is not going away; that we will continue to aspire, dream, strive, design, build, achieve, and live, in many ways, as we have. That we will create our own future rather than accept the fate chosen for us.
But how to rebuild? What to construct in the emptiness where the towers once stood? For me, architect Sherri Tracinski hit on the key issue in her 2002 article written in disappointed response to earlier WTC redevelopment proposals for buildings that fell short of the the Twin Towers' stature:
Anything less than a new tower at the same height — or higher — is demonstrating to those who hate us that we intend to cut back, roll over, and give up. It is not the quick, violent suicide of putting a gun to your head, but the slow suicide of a man who has given up trying to live.
"Throughout history," she reminds us, "many great buildings have been damaged and destroyed in war. What a society does to rebuild afterward is an omen for its future survival." [emphasis mine]
Twenty-five hundred years ago, a marauding Persian army sacked the Greek city of Athens and burned the Parthenon, the city's most important temple. What did the ancient Athenians do? They didn't decide they should make a smaller temple so that it would be less of a target in the future. They didn't decide that they were guilty of offending the enemy with their wealth and success. They didn't leave a barren plateau to commemorate the men who died fighting the Persians. Instead, after they roundly defeated the enemy, they rebuilt bigger and better.

The old Parthenon had been built of limestone. The new Parthenon was built of the finest material the Athenians could find—white marble—and decorated with inspiring sculptures of heroes. It was the greatest Greek temple ever built and marked the beginning of the Athenian "Golden Age."
It is in the wake of historic precedents such as this one that we are left to decide what it is that we will do. Will we "cut back" half-heartedly? Or will we summon the will to replace what was taken from us with something still more ambitious? In July, the cornerstone was laid for the first and tallest building now scheduled to be constructed at the site. The planned "Freedom Tower" would, at 1,776 feet, stand taller still than did the 1,362 and 1,368 foot Twin Towers. Yet if the tone and content of last Tuesday's Frontline report "Sacred Ground" is to be believed, the construction of the tower seems anything but certain — jeopardized by infighting among rival architects Daniel Libeskind and David Childs, developer Larry Silverstein, the Lower Manhattan Development Corporation and the city and state governments of New York. Will we blow it by letting the project become mired in egos and politics? Will we be persuaded that we shouldn't even care — or maybe, just maybe should even be glad to see the towers gone?
It's at this point that I struggle to fathom stuff like this. It takes a pretty twisted worldview to attempt to brush aside the viciousness and human toll of September 11th and invoke a phrase like "radical architectural criticism" to describe the deliberate flying of aircraft full of people into buildings full of people. People, some of whom chose to jump to their deaths rather than accept the fate that had been chosen for them. Maus creator Art Spiegelman really ought to know better. And he ought to know all about what life in an actual police state is like. James Lileks takes him deservedly to task, on the eve of publication of Spiegelman's In the Shadow of No Towers. (There's no anchor, so you'll have to scroll to about the bottom third of the page to find the part about Spiegelman. There's a pointed note about journalism and the recent carnage in Beslan along the way. Link courtesy of Instapundit.)
That's how Spiegelman would have us feel about the towers, our culture, and ourselves? Thanks, Art. We'll remember that.
Clearly there is nothing to stop us from succumbing to this kind of thinking if we choose to do so. How we respond, how we move on, is our choice. I'm moved to remember Senator McCain's words as he declared in his gentle, measured tone, "What our enemies have sought to destroy is beyond their reach. It cannot be taken from us. It can only be surrendered." And so indeed, it is left up to us to decide what to do next. We can resign ourselves to accept empty footprints and a hole in the sky, or some modest concession, where the towers once stood. Or we can rebuild with determination to reach still greater heights.
Those who perished needlessly in New York, Washington D.C., and Pennsylvania, can never be replaced. But I believe we can best honor their memory by our commitment to keeping our enterprising culture alive and thriving.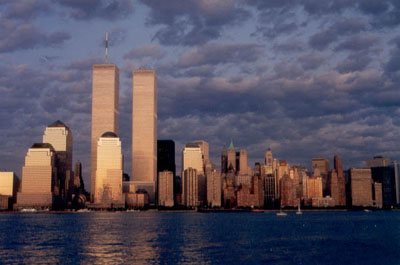 What we have built still stands tall in our hearts.
Links
Frederick Turner's "Honor in the Sky" provides another interesting take on the meaning of rebuilding, and offers the imaginative if maybe not practical (?) idea of placing a garden memorial atop the new building(s).
Team Twin Towers [link broken] hosts a page of comments from survivors and others who would like to see the towers or something like them rebuilt.
Wikipedia: