An amazing 70 years ago today, the Czech town of Plzeň was liberated by the United States Army.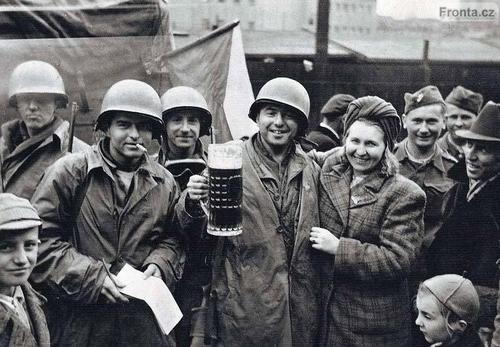 Thousands of residents, visitors, and veterans gathered to celebrate this anniversary with the Plzeň Liberation Festival (Slavnosti svobodi Plzeň), as they have since 1990 when recognition of the day was no longer outlawed. My thoughts have been with the surviving veterans and our true friends the Czechs, as they celebrated this extraordinary day of hope and freedom. Na zdraví!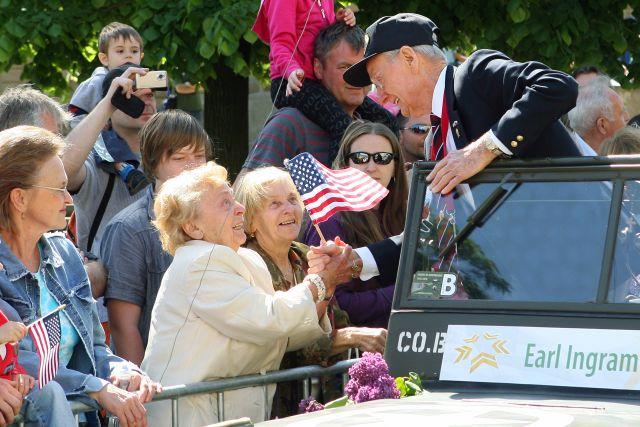 From České Noviny:
Crowds of locals today applauded the veterans who jointly laid wreaths and flowers to the memorial.

The veterans still regret that they had to stop on the demarcation line and could not continue eastwards to liberate Prague as well.
My hat is off to these men, with the deepest admiration and gratitude for their tremendous courage and sacrifice.
Perhaps one of the most moving events of the week took place on Tuesday when around 300 Czech teenagers from local schools gathered in a city cultural centre to hear veterans from Plzeň's liberation. Altogether there were around a dozen veterans, now mostly in their nineties, both from the US and Belgium. Their broad message was simple: 'We helped to liberate this county 70 years ago. Now it is up to you to make sure you safeguard the liberty you now enjoy.' At the end of the session many of the veterans and audience had tears in their eyes.
Don't miss this photo essay from 2010, which I mentioned a few years ago — especially the story of Zdenka Sladkova, who has tended a memorial at a U.S. pilot's crash site since 1945.